For such a humble person Sharon Finnan-White has a pretty impressive netball CV – 20 games for Australia, Commonwealth Games gold medal in 1990, 2 World Championship Gold medals in '91 & '99, 60+ games in the national netball league, Netball NSW Hall of Fame inductee, a stint with the coaching team of Trinidad & Tobago and recipient of the Medal of the Order of Australia (OAM) for services for sport, and up until this year still starring in Division 1 netball in the local comp. We recently caught up for a chat to talk netball, sport and proud mum moments.
Source: The Cairns Post
Tell us about the ups and downs of your international netball career.
In 1988 I received a 2 year scholarship at the AIS and was first selected at the national level to play for Australia in the under 21 World Youth Cup. I made my first open team for the 1990 Commonwealth Games in Auckland but missed the final cut for the 91 world championships. I got called in to the team late in the tournament due to replace an injured player and ended up being part of the team for the gold medal game after watching the earlier games in the stands.
For the next 8 years I played national league for Sydney Sandpipers, Qld Firebirds and for NSW at the national championships, making the Aussie squad and selection camps but always missing out on the final team. It was incredibly hard to break into such a successful team and extremely hard to stay motivated to keep trying.
As the only Indigenous player in the Aussie squad my profile within Indigenous communities started to increase and I felt I had an obligation not to quit and to continue to be a role model. I knew I had what it took to get back into the team but I had to work that little bit harder to get there.
When I finally got a recall to the team for the '99 World Championships it was a feeling of immense relief and satisfaction that those previous 8 years of hard work and sacrifice had paid off. I felt so proud playing for Australia and knowing that when the games were televised that other indigenous girls would see me and hopefully be inspired.
What's your favourite memory of playing in the green and gold?
It would have to be after we got back from winning the '99 World Cup where Sharelle McMahon sunk the winning goal on the buzzer to beat the Silver Ferns. We had a ticker tape parade thrown for us in Sydney and had people throwing streamers and cheering us along the streets. I hadn't realised just how many people had been following the team and supporting netball and it was fantastic to be recognised for what we had achieved and worked hard for behind the scenes.
You are one of two Indigenous women (along with Marcia Ella-Duncan) to play for the Diamonds. Tell us about the work you are doing now with Netball Australia to provide a pathway for Indigenous netballers?
I am on the Netball Australia Reconciliation Action Plan (RAP) Working Group which provides advice on strategies that aim to provide greater opportunities for Indigenous players, coaches and umpires to participate, develop and progress through the pathway. The RAP is also about educating the wider netball community on ways in which they can be more inclusive and supportive of Indigenous players and communities. There are currently 14 Indigenous girls in state or national under age teams however since my retirement in 2000 there have been no Indigenous players in the Diamonds team. I am hoping I can make a difference in retirement for Indigenous girls coming through the pathway.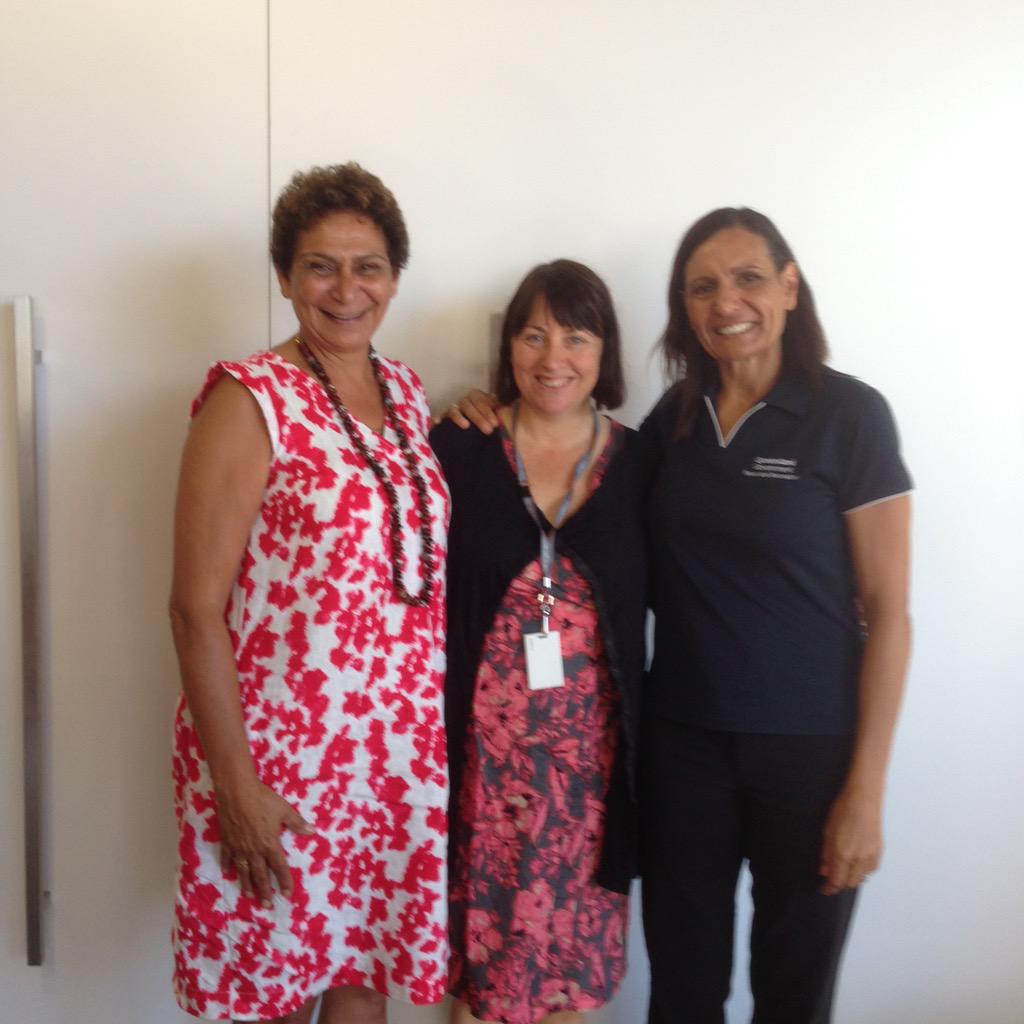 Sharon (right) with Lisa Alexander, current Australian Diamons coach (centre) &  Marcia Ella-Duncan (left)
What is your favourite sporting team, athlete or event to support/watch?
I love watching tennis and really enjoy the Australian Open time of the year. I love watching Djokovic and Federer and admire how hard the players work especially over a 5 set game.
What is your most memorable sporting moment?
There are many memorable moments I have seen on TV but one of my proudest sporting moments was at my son's school athletics carnival. Last year he came 18th in the 800m and this year tried his heart out and came 4th. For him to be so excited about coming 4th brought a tear to my eye.
What is on your sporting bucket list?
I would love to go to watch Australian Open with my husband as we both like tennis and also take my sons to watch a top international soccer game – they love watching the Brazilian team so were right into the Olympic tournament!
Sharon (front right) with her team mates from the Australian 1999 World Cup winning team