Monday gone saw the "official" day that the teams in the new look 2017 National Netball League could sign and reveal their new players. So who took the opportunity to create a big bang and do it best??
Collingwood kicked it off on Tuesday with a press conference and full introduction of their new star-studded magpies netball 2017 line up. Heaps of social media build up and the personal intro of the full team to the media seemed to give them the bang they were no doubt after. The team looked great also fully decked out in their Magpies gear. They will be strong from the get go but are they the new team everyone loves to hate? And how did they get so many Diamonds squeezed into that roster after luring most of them from four of the existing clubs?  Thumbs up to their build up so far – I watch how it all unfolds with great interest.
The Adelaide Thunderbirds revealed a few players ad hoc each day over social media and online and managed to even turn the news Diamond Renae Ingles was taking a year off to care for her newborn twins into a feel good happy story. There's a few twitter handles to keep up with – #tbirdsrising #pinkarmy  – and no big bang here, but they seem to be quietly going about their (rebuilding) business under new head coach Dan Ryan.
The Qld Firebirds built up the excitement prior to the team reveal with this social media campaign below and the #firebirds2017 twitter handle. It looked to be a great idea until channel 9 sport revealed the team on prime time news early in the week. This forced the Firebirds to change tack, reveal the full line up and instead drip feed profiles during the week day by day. You can't complain about prime time news sport coverage – especially during footy finals – and their social media game has been strong. But no "in person" introduction I have noticed yet. I think the fans will stick loyal to this new combo – with some big name departures they have managed to keep 4 of their title-winning starting 7 and sign some young up and coming Qld stars. Besides – when you have your own river cat cruising Brisbane River you are off to a good start!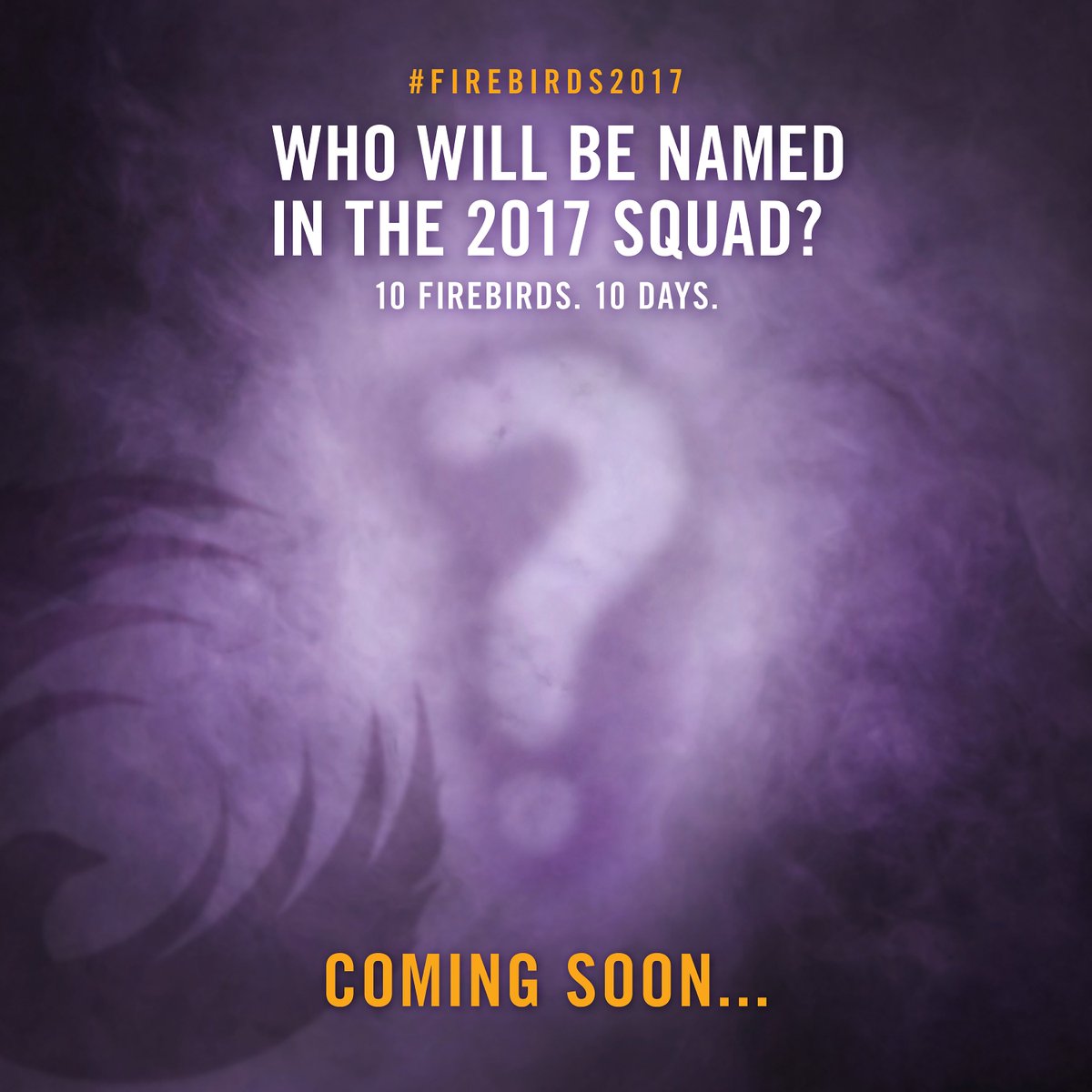 After making the GF in the past 2 years (and unfortunately coming across a red hot Firebirds outfit) the NSW Swifts roster was absolutely gutted by the new teams to the league. Many were waiting to see what type of roster the Swifts could put together. Wednesday saw them reveal their roster on social media without too much fanfare and the obvious PR angle that they were excited about their new rebuilding phase.
The GWS Giants had their team reveal mid week highlighted by the across town defection of Swifts legends Kimberlee Green and Susan Pettitt to reunite with head coach Julie Fitzgerald. I liked how they introduced the team in person – not sure about the ad hoc dress code – I think the invitation must have said wear anything black and white and we will supply the red netballs?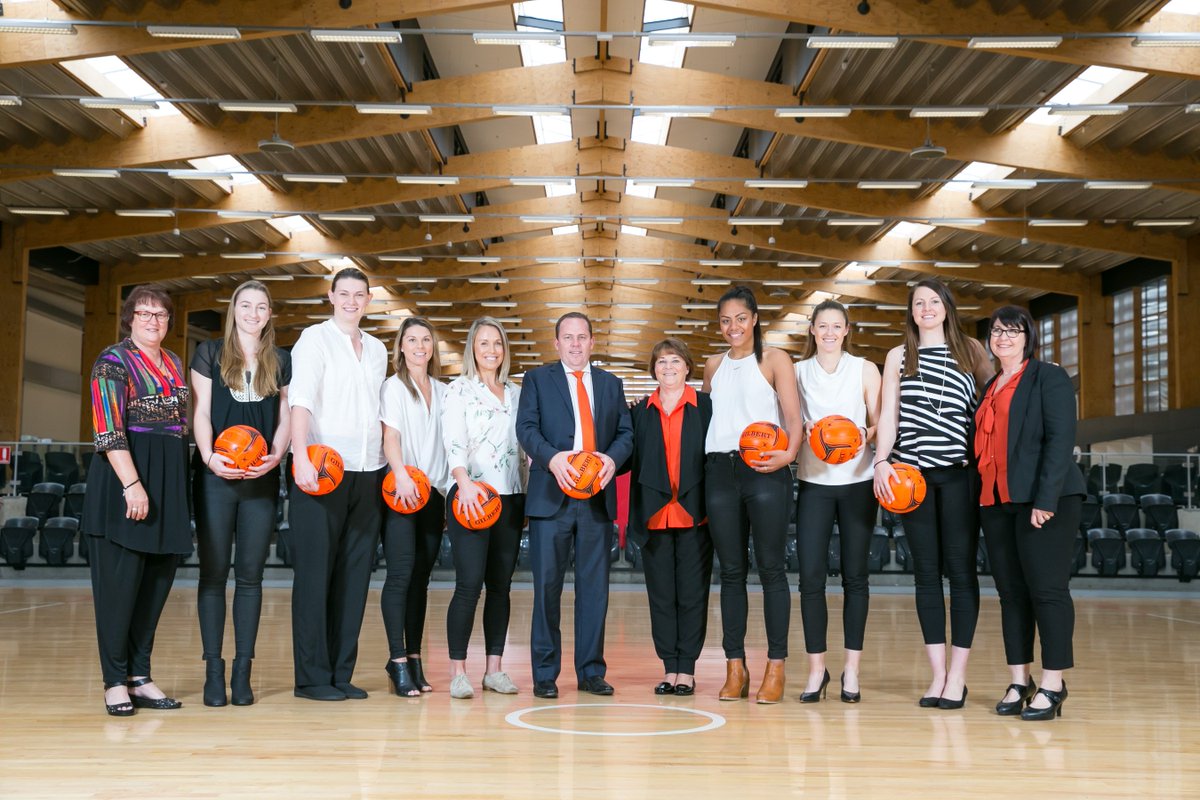 Wednesday saw new club Sunshine Coast Lightning reveal their first two signings – and big ones at that. Diamonds' shooters Caitlin Bassett and Steph Wood pedalled their way across the waters and were seemingly kept busy during the day at shopping centre and beach locations. While there was no big bang, full team reveal or pizazz the club was probably smart in getting down to the grass roots to build their new fan base and identifying with the beach lifestyle synonymous with the Coast. Still waiting for the rest of the team to be revealed though….. (including rumoured internationals Geva Mentor and Laura Langman)…..so perhaps an opportunity missed to create a huge bang? On the upside – there's plenty of more PR mileage to come out of the signings at this club. And a few more water boats to be pedalled….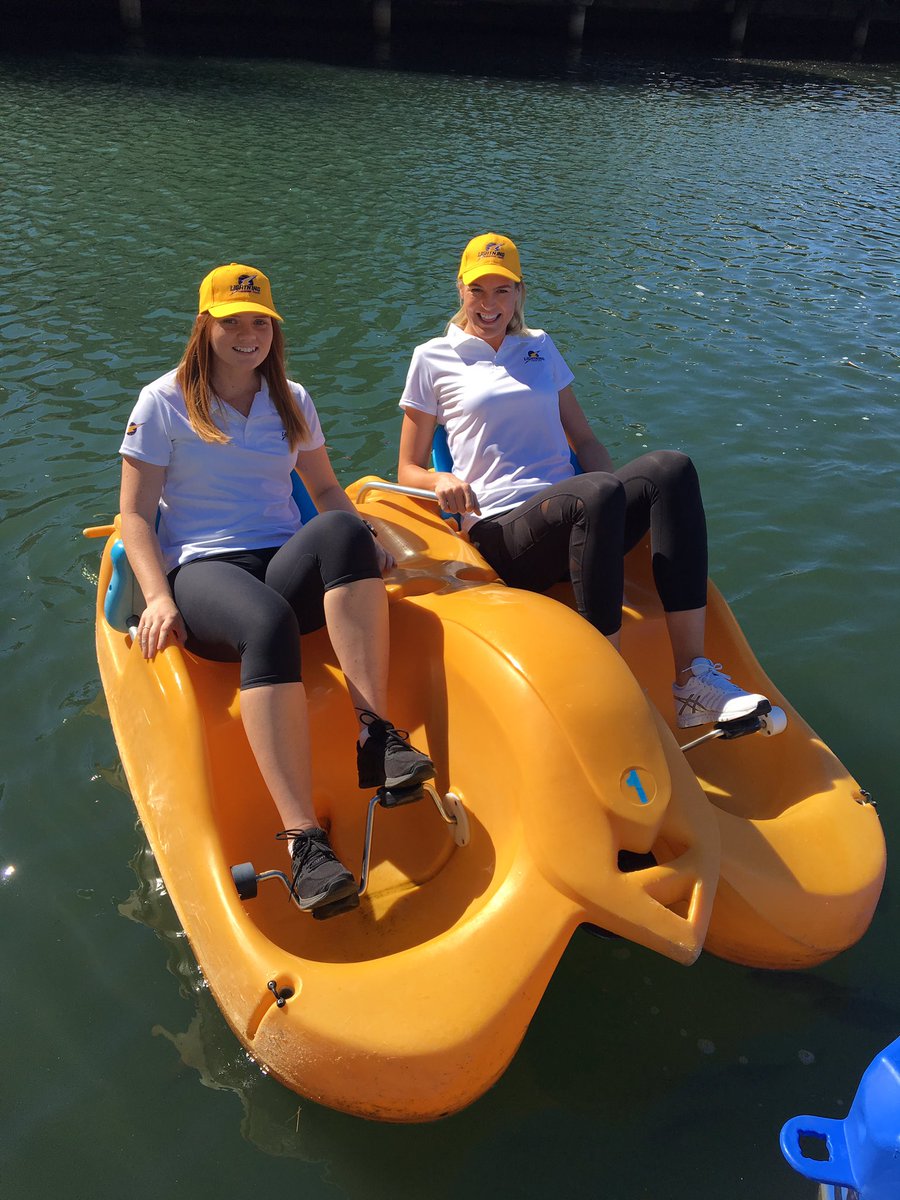 Steph Wood and Caitlin Bassett of the Lightning
Thursday saw the Melbourne Vixens reveal their #vixensfamily with head coach and Vixens legend Simone McKinnis fronting the media. Their notable pick up is international signing Malwai GS Mwai Kumwenda joining a good mix of young rep players and they will welcome the return from injury of Tegan Philip.
Rounding out the teams is the West Coast Fever who have seemingly spent a lot of the past fortnight putting a positive spin on the loss of the majority of their star players. It seems with this major change in personnel (including leaders Caitlin Bassett to the Lightning and fan favourite Ash Brazil to Collingwood) they may have missed their big opportunity to reach that title – for now. But they still have star GA Natalie Medhurst leading the way.
So who did it best and got maximum bang for the buck?
I am going to say Collingwood Magpies followed by Sunshine Coast Lightning (who if they have it planned right have a few good news stories to go yet) and the Firebirds who had me hooked with their 10 players in 10 days theme.
You can keep up with all the teams on on facebook and twitter. Now bring on the season!